In today's digital age, tracking and analyzing customer data is essential for any successful business. To help achieve this goal, Facebook has developed two powerful tools - Meta Conversions API Gateway and Conversion API. Both tools allow tracking user behavior and collecting valuable insights using cloud server to optimize a company's marketing efforts. However, you need to be aware of the critical differences between these two tools to choose the best option for your needs.
In this article, we'll explore the differences between Meta Conversions API Gateway and Conversion API to help make an informed decision and choose the one that best suits your tracking and analytics demand.
Meta Conversions API Gateway and Conversion API are methods of sending data to Facebook servers known as server-side tracking. Using server-side tracking became widespread and sometimes mandatory because of the constant growth of tracking restrictions and data privacy regulations.
By collecting and processing data on the server-side, it eliminates discrepancies caused by ad-blockers, client-side scripts, and other monitoring issues, resulting in more accurate data. Additionally, server-side tracking allows businesses to maintain user anonymity, protecting personally identifiable information (PII) and complying with privacy regulations such as GDPR and CCPA.
Server-side tracking is becoming increasingly popular as businesses seek more advanced tracking capabilities and improved data privacy. However, ss tracking is more complex than client-side tracking, requiring technical expertise and access to server-side scripts.
One of the most popular ways of implementing Meta Conversion API is using server Google Tag Manager (GTM). By using GTM's server-side capabilities, businesses can send customer data directly to Facebook's server.
Implementing Facebook Conversion API through sGTM simplify the set up process and make it more accessible to businesses that do not have the technical expertise to write custom code or use a third-party integration platform. Additionally, server GTM provides a centralized location to manage all marketing and analytics tags, making it easier to maintain and update tracking implementation over time.
Another popular way of integrating Meta Conversions API is sending data directly from your backend to Meta servers. This option won't have any intermediary between FB and your website, but it requires more advanced technical skills.
Meta Conversions API Gateway is a self-serve configuration option in Events Manager. It allows sending events to Meta pixel and Conversion API in an easy and redundant way. The configuration is straightforward, so hiring a specialist to set it up is unnecessary.
When setting up Meta Conversions API Gateway, all you need to do is ensure FB pixel tracking works correctly. Once CAPI Gateway is connected to the Meta pixel, it automatically detects web events and sends related events to the server.
Additionally, CAPIG offers the ability to enable advanced matching. It helps to store hashed data in 1st cookies and sends it to the Conversions API with your events. This feature can help you attribute more conversions and show your ads to people that find them relevant.

Besides that, you can optimize CAPI Gateway data routing by setting up a custom domain of your CAPIG server instance. Again, it can help to improve performance.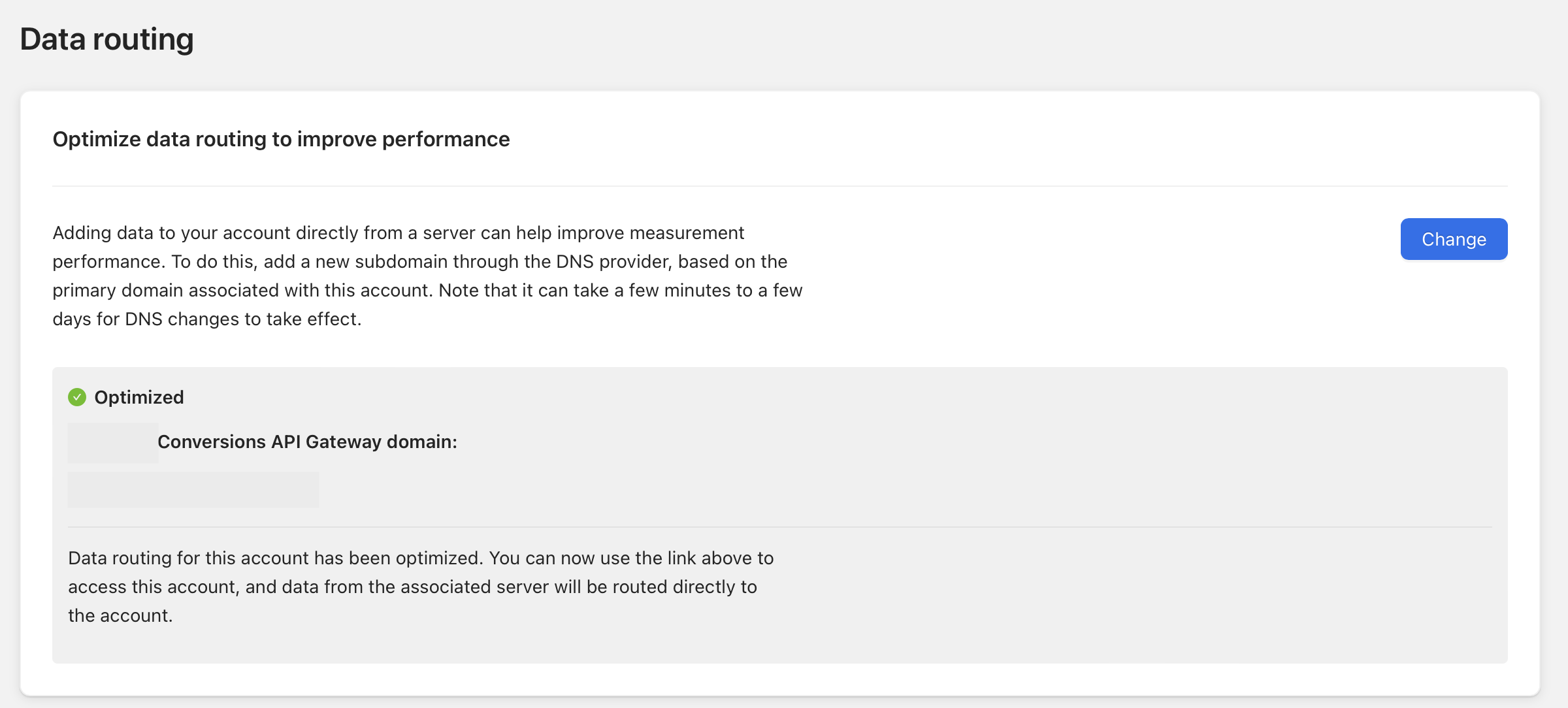 But among the cons, we can outline that Meta CAPI Gateway is still a relatively new technology. Meta will bring new functionality and update the existing one, so it makes sense to prepare for some changes to its features. And another thing to mention is that you have to use server Google Tag Manager to manage server Google Analytics, Google Ads, etc.
Check out our blog post if you want to try Meta Conversions API Gateway. With stape, you can set up Meta Conversions API Gateway in less than 1 minute and take advantage of our 7-day free trial. Our pricing is simple as well:
$100/month for an unlimited number of pixels
With different technologies and benefits, Meta Conversion API and Conversion API Gateway both exist to send events from your server to the Facebook server. But only one can be right for you - so let's explore which is best in what situation.
Meta Conversions API Gateway will fit those who:
Looking for a fast and easy way to set up Meta s2s integration.
Do not have spare money to spend hiring a dedicated person to set up s2s integration.
Running only Facebook ads.
Meta Conversions API will fit those who:
Looking for more advanced integration.
Interested in customizing events, or user parameters sent to FB servers.
Maintain not only FB ads but other platforms.
Stape hosting
Copy link to this section
No matter what option of implementing Meta Conversion API you choose, stape can provide reliable cloud servers for both server Google Tag Manager and Meta Conversion API Gateway. We offer the most affordable prices and the fastest way of configuration on the market.
If you choose to implement Facebook s2s tracking using sGTM, I suggest testing stape Facebook CAPI Tag and following any of these guides on implementing FB CAPI:
The price for sGTM hosting depends on the number of requests your sGTM container generates. A request is any incoming request you send to the sGTM. It includes all script loads like gtm.js, analytics.js, gtag.js, etc. You can find more detailed information on sGTM pricing here, or use pricing calculator to find the best plan for your website.
And as for Meta CAPI Gateway - we offer $10 per pixel per month or $100 for an unlimited number of pixels per month. Besides that, all users have a 7-day free trial for that. The implementation of Meta Conversion API Gateway is straightforward. Simply follow the steps from this article.
Join the thousands of satisfied customers who trust Stape hosting for their hosting needs and experience the difference for yourself!
Conclusion
Copy link to this section
In conclusion, it is clear that both Meta Conversions API Gateway and Conversion API have their merits for tracking customer data. However, it's essential to examine the difference between them to ensure the best choice of tool for your particular business needs.
If you are still trying to decide which would fit your requirement, consider contacting a qualified digital marketing team for help. It's worthwhile to understand what options are available and select the best one.
The right choice of tool can significantly reduce marketing research costs, optimize efforts, and increase customer engagement and loyalty – all essential components of a successful modern business.
Need help setting up server-side tracking?
We've got you covered! Click Get assistance, fill-up the form, and we will send you a quote.
Get assistance