The latest Apple announcement had many marketers worried about how to prepare their Facebook campaigns for iOS 14.
The new mobile operating system limited the ability to use third-party cookies — a significant feature for most marketing and advertising campaigns. That means that marketers will have to find alternative methods for measuring conversions, tracking data, and using good old pixels on the websites.
This blog post will explain what advertisers should expect from the iOS 14 update and explore how to prepare Facebook campaigns and set up tracking so that all your efforts are not in vain.
What is iOS 14, and how does it influence advertisers?
Copy link to this section
Apple's new App Tracking Transparency framework was implemented in iOS 14. The policy states that if app developers engage in what Apple defines as "tracking", they must show a prompt to the user about their data collection and ask permission to track how users engage with the app.
If the user opts out of tracking, then the app no longer can track their behavior. Facebook states that since more people opt out of Facebook and Instagram, tracking, ad personalization, and campaign reporting will be limited for mobile apps and website users. In addition, it may affect campaign measurement and targeting settings that advertisers use inside the business manager.
Apple has always been an advocate for privacy. And their latest update is no exception. This summer, users started seeing contextual prompts when apps engage in tracking behaviors, including everything from collecting geolocation data to accessing contact information on your device. Previously, access to this information had to be granted to the third parties by the device owner.
iOS 14 changes will affect all apps, but Facebook showed a massive message in the ads manager, encouraging people to switch to a new way of tracking – server-side. That is why, you should consider moving your tracking to a server-side because of all the tracking rules and restrictions. Chances are it will become a new standard of tracking.
You can already set up server-side tracking for:
Google Analytics (Universal Analytics and GA4)

Facebook and Instagram

TikTok

Reddit

Pinterest

Bing

Yandex

Snapchat
How will the iOS 14 update impact Facebook advertisers?
Copy link to this section
Facebook Audiences
Copy link to this section
When iOS users opt out of data tracking, they become invisible to a Facebook pixel. And that means that your retargeting campaigns won't target these users. Studies suggest that around 90% of iOS users in the US opted out of tracking. It means that you might not be able to retarget 90% of users who saw your video ad on Facebook.
The good news is Facebook has a solution on how to prevent this — Facebook conversion API. FB CAPI tracks users on the server-side and passes site visitors information (like email, first name, last name, etc.).

With the help of user information, FB can match users on the site to users in the database. The more user parameters you send from the server, the better match quality you will receive on Facebook. FB CAPI will also send events through the server when the pixel is blocked.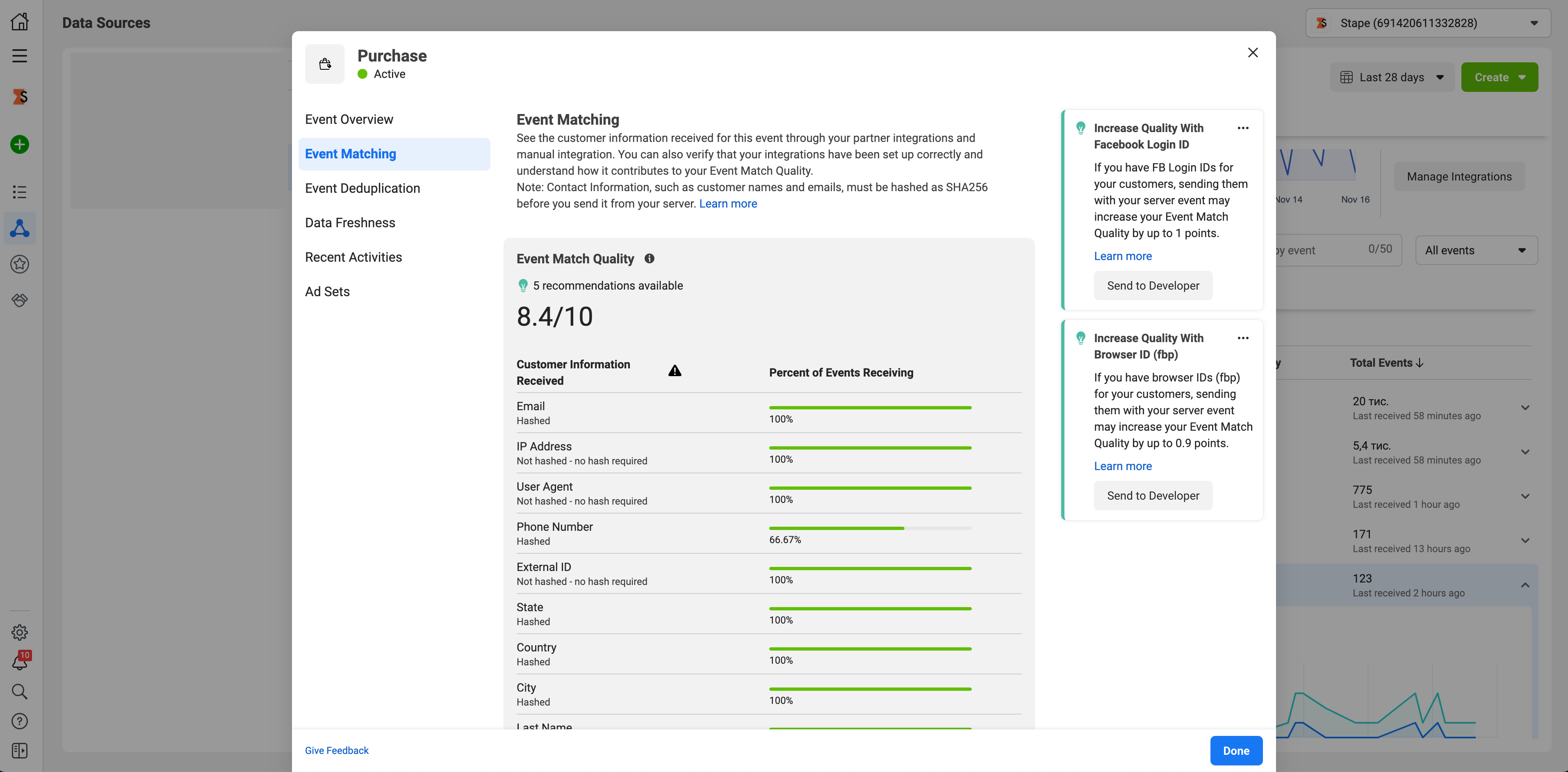 Facebook recommends using both browser and server tracking. This way, you will have two data sources of events on your site. To prevent events from counting twice, you should set up event deduplication.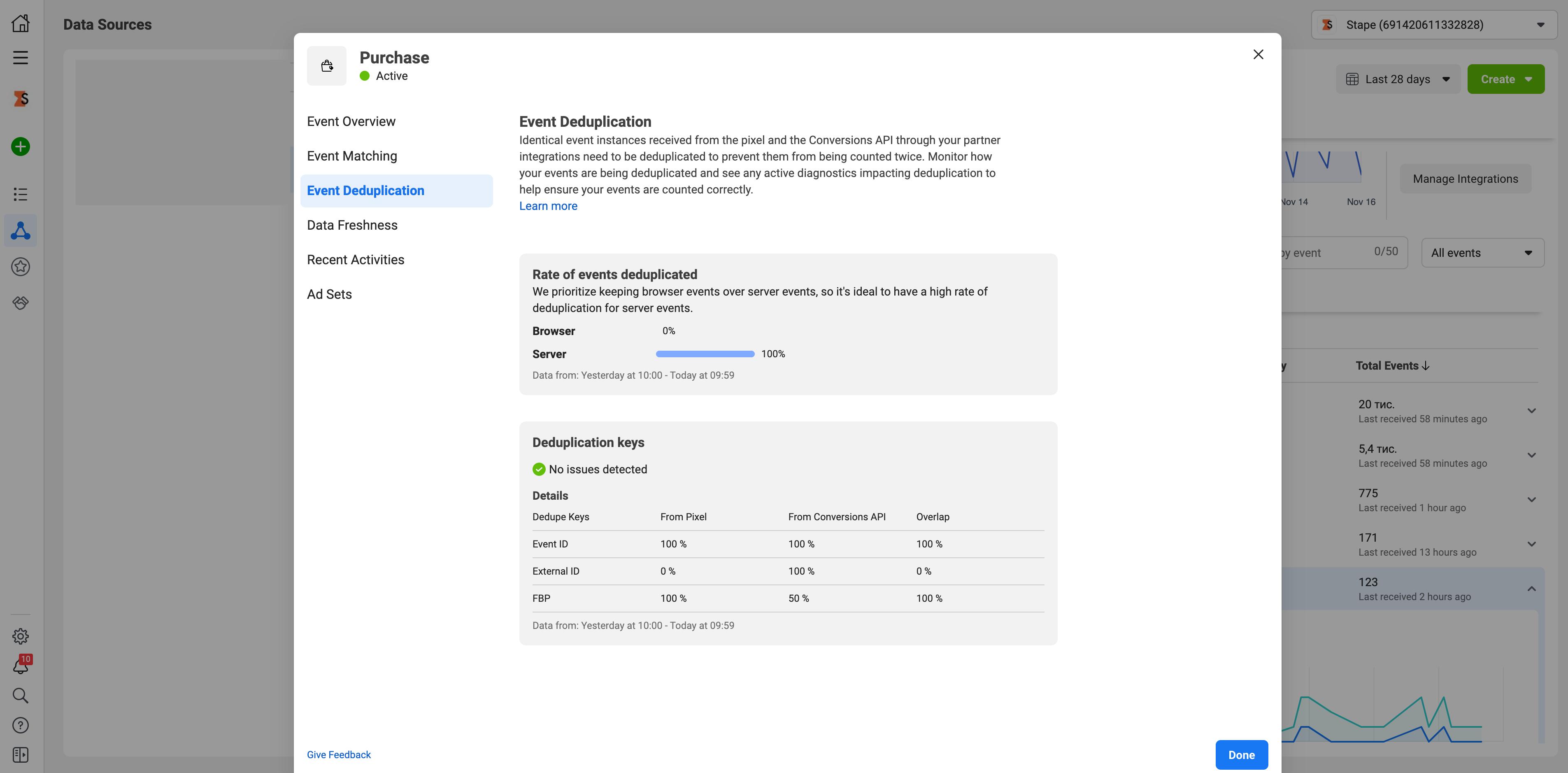 Event Limits
Copy link to this section
Advertisers will be limited to 8 events per domain. Each event should be added to the aggregated event measurement manually. Facebook will also ask you to set the priority of these events.
If an event is not added to the aggregate event measurement, then you won't be able to select this event for campaign optimization.
There is no way to bypass this restriction. That may become a problem for the advertisers accustomed to having ad sets with a dozen website events.
Oh, and one more thing about aggregate event measurement — you won't use custom events.

Domain Verification
Copy link to this section
Domain verification is not a new thing. It has been around for a couple of years. Gone are the days when domain verification was recommended. Now, it is required.
What does it mean for marketers? Well, you won't be able to use events from non-verified domains. It may become problematic if you wish to optimize your campaigns for the event sent from outside of your domain. For example, you promote an online event and use a specific tool for selling online tickets. In this case, users will purchase them on the domain of the system that sells tickets. Even if this system allows you to add your FB pixel, you won't be able to use the purchase event as an optimization goal for your campaigns.
Attribution Window
Copy link to this section
28-day click-through, 28-day view-through, and 7-day view-through attribution windows are no longer supported. 7-day click or 1-day view attribution will become a new default option.
You will no longer see the breakdown by attribution window, which makes campaign analysis more frustrating. It's a common issue that advertisers see the different number of conversions from Facebook inside the FB ads manager and Google Analytics. Previously it was possible to compare view-through conversion with click-through and understand your campaign resultы better. Unfortunately, it's no longer an option.
Reporting Limitation
Copy link to this section
FB will stop supporting real-time reporting. Data can be delayed up to 3 days. In addition, breakdowns, such as age, gender, region, and placement, will not be available.
Targeting limitations
Copy link to this section
Facebook says that behavioral and interest-based targeting performance will decrease since their algorithms will receive less information about user browsing history.
Actions you should take to prepare Facebook and Instagram ads for iOS 14
Copy link to this section
1. You may need to verify your website's domain. Otherwise, you won't be able to use events from non-verified domains.
2. Use Aggregated Event Measurement tool to select and prioritize 8 events per domain. You will be able to use only these 8 events for campaign optimization.
Conclusion
Copy link to this section
The most important thing you need to do is set up the Facebook conversion API. If you want your marketing plan to be successful and ensure that it will work with the new iOS 14 update, this aspect of your campaign must be done first.
We can help you create a seamless transition from browser to browser+server tracking. Contact us today to request assistance in optimizing your campaigns before the release date!
Got any questions?
We can help you with anything! Click Get help, fill up the form, and we will send you a quote.
Get help