Outbrain server-to-server tracking helps improve the quality of data sent out, giving more precise information on how well campaigns are converted and a better source for data-driven advertising algorithms to learn. Besides data quality, there are other benefits like the ability to measure offsite conversions and remove 3rd party scripts from pages - which make sites both safer and faster.
We've tried to simplify Outbrain s2s integration by creating the Outbrain s2s tag for the Google Tag Manager server container. In this article, we'll walk you through the steps of setting up the server GTM tag for Outbrain and describe how Outbrain s2s tag works.
Outbrain's Pixel is a powerful tool that can be used to track conversions. However, it has some flaws - for instance, when users enable ad blockers or privacy settings on browsers, Outbrain pixel won't be able to set cookies or track events. This means intelligent bidding optimization won't take any notice whatsoever and conversion events won't be reported.
Server-to-server tracking can overcome these pixel restrictions. When a user visits your site, the server tagging endpoint will set 1st party cookies with the unique user identifier. Once this user converts, s2s Outbrain conversion tag sends a request to the postback URL with the user identifier back to Outbrain. Based on this data Outbrain understands that the conversion event was triggered, what user made the conversion, and what advertiser is responsible for the conversion event.
The logic of Outbrain s2s tag for the sGTM container is simple: when the pageview event triggers, Outbrain pageview sGTM tag captures ​​Outbrain click-id from the URL and stores it in cookies. When conversion event triggers, conversion tag sends the conversion event to Outbrain together with event details. Conversion tag allows sending event name, order ID, order value, and currency code when a conversion event triggers.
4. Create Outbrain Pageview tag -> Add Outbrain click ID parameter that you've specified in Outbrain campaign settings -> Set Outbrain Click ID cookie lifetime in seconds.
When a user clicks on the ad, Outbrain appends the Click ID to the URL. Outbrain sGTM tag stores this click ID in the outbrain_cid cookie. A cookie expiration time can be modified in tag settings.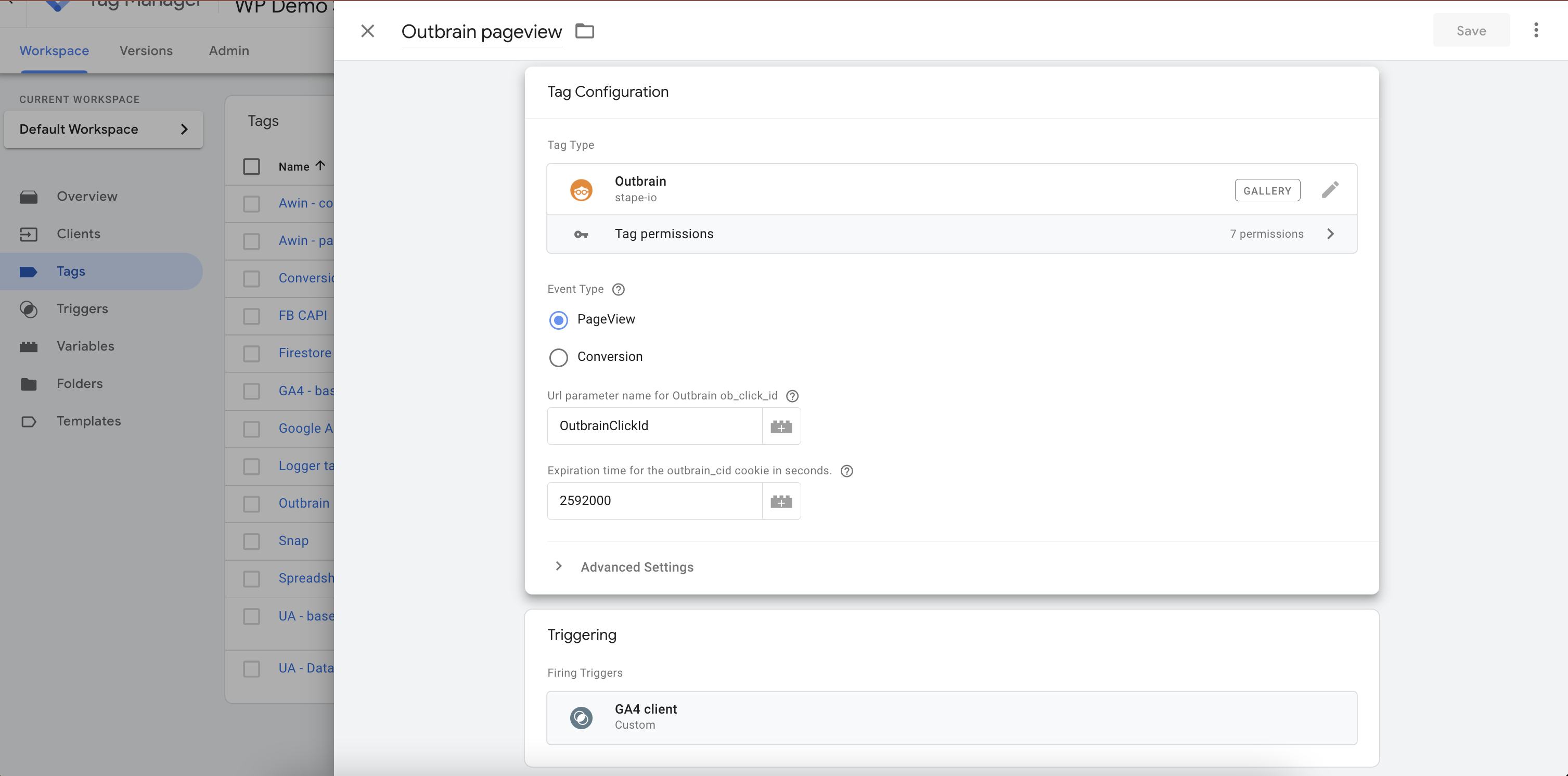 5. Log in to the Outbrain account and create a conversion event if you haven't configured it yet. Go to the conversions tab and click Add Conversion button-> select type Event-Based Conversion -> add event name and choose category -> click save.
6. Create Outbrain conversion tag -> add event name. It should exactly match the conversion event name you've set up in Outbrain -> add order ID, order value, and currency, and if necessary -> add a trigger.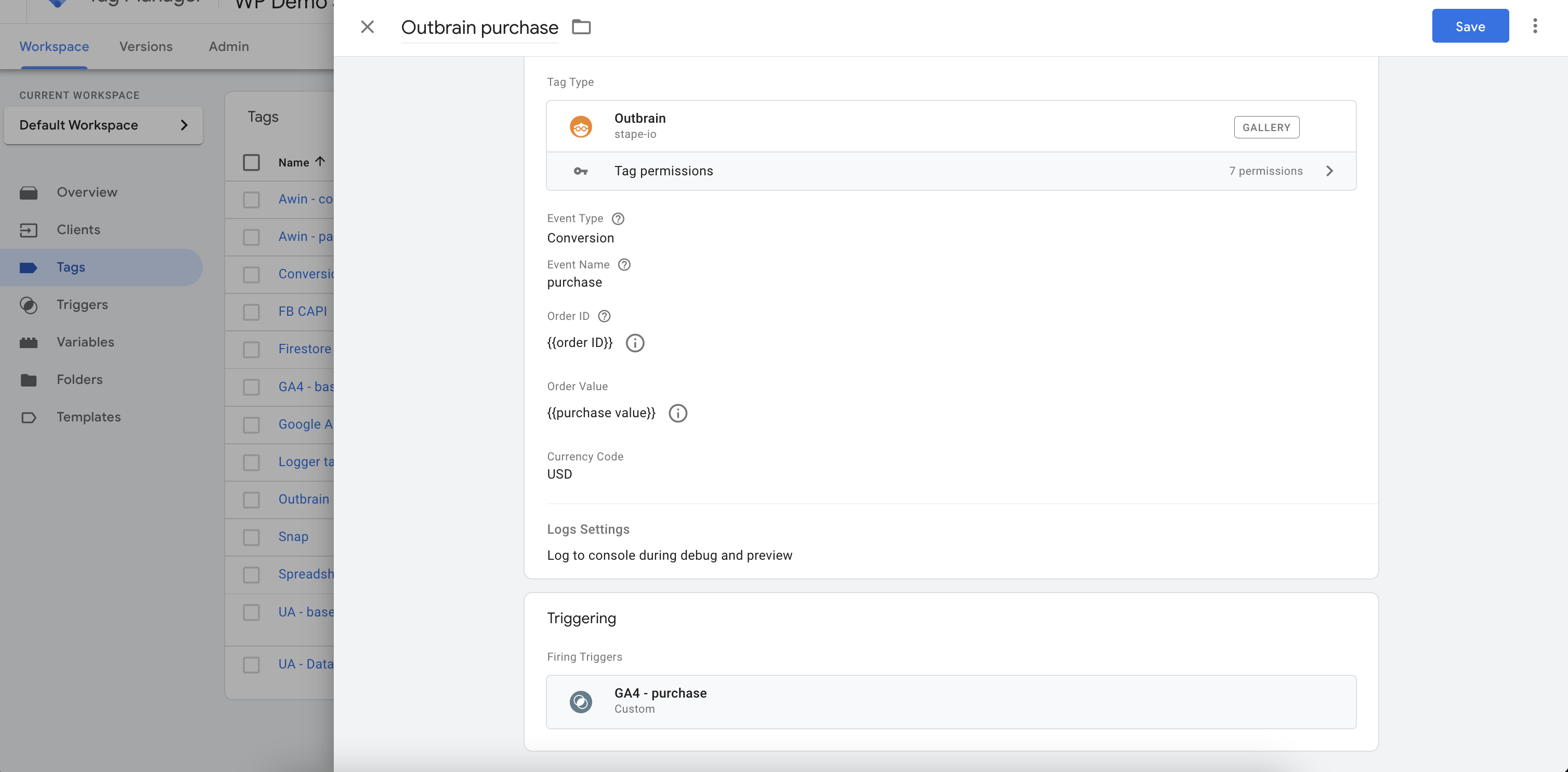 7. Open sGTM preview mode and test Outbrain tags. While testing the pageview tag, make sure you've added a click ID to the URL. You should see that outbrain_cid created.
Once you've tested the conversion event, go back to the Outbrain interface and check that the tracking status of the conversion event is active.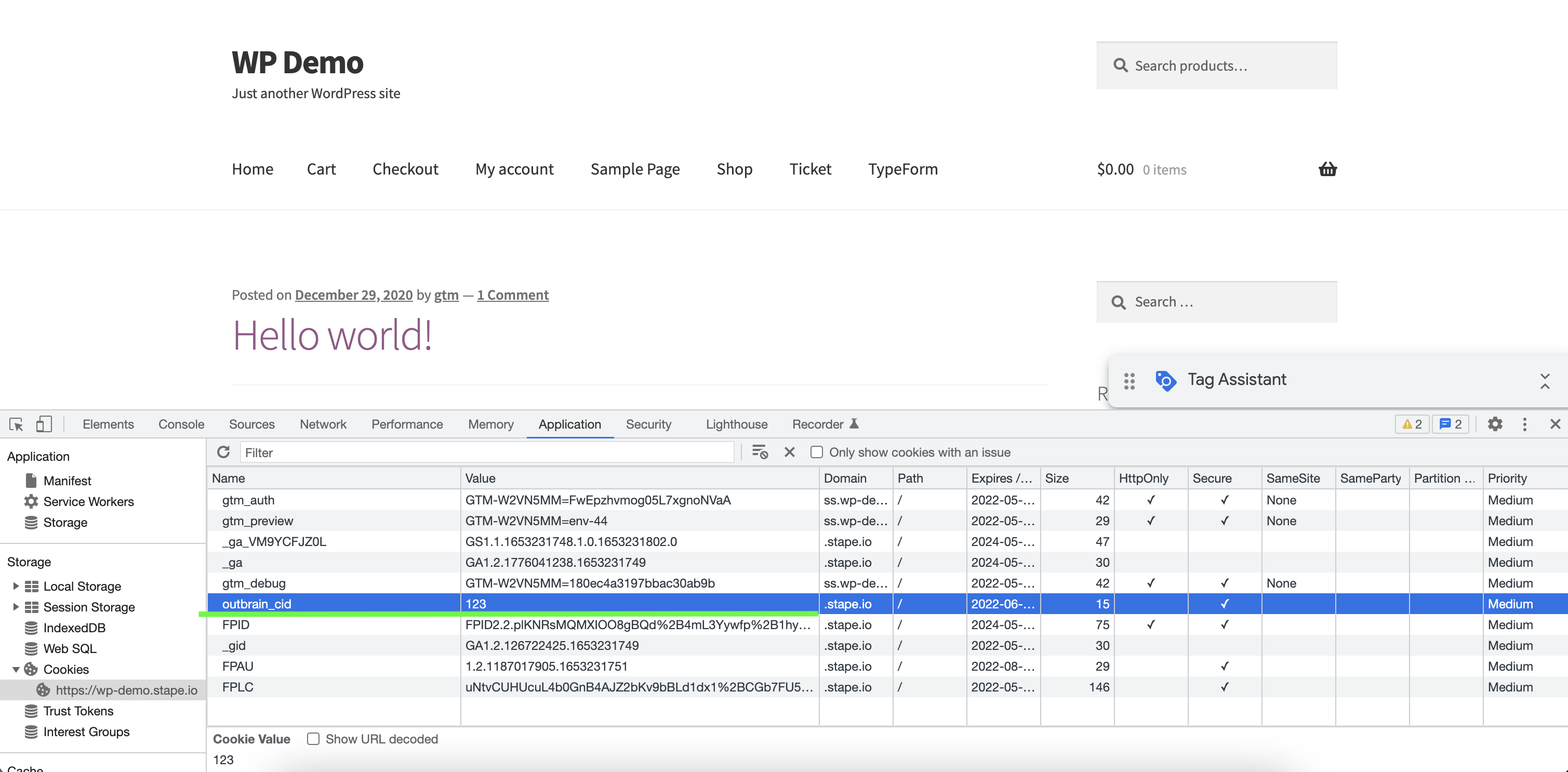 Conclusion:
Copy link to this section
Most affiliate and advertising platforms recommend implementing server-side tracking alongside or replacing client site tracking. S2S helps make tracking more resistant and record data when client-side tracking fails. For example, when using ad blockers, browser privacy settings, or the page just doesn't finish loading.
If you need help setting up server-side tracking, don't hesitate to contact us. Our team of experts will be more than happy to assist you in getting set up and start seeing the benefits of Outbrain's robust server-to-server tracking.
Need help with setting up server-side tagging?
All it takes is a few simple questions. Click Get A Quote, fill-up the form, and we will send you a quote.
Get a Quote