We will explore the benefits of the Meta Conversions API Gateway for Meta Advertisers and provide information on how to improve your Meta advertising strategy with CAPIG.
Date: October 19th at 1pm EST
What will be discussed:
Copy link to this section
The Conversion API Gateway: why it is the best-in-class data-driven marketing solution.

Advantages of CAPIG: what are the pros of using the Conversion API Gateway.

Guide on how to set up CAPIG: check out the whole process of setting up the Conversion API Gateway in the most convenient, fast, and cost-efficient way using Stape hosting.

Q&A Session: get your questions answered by our experts from Stape.
Are you still uncertain about attending the webinar?
Copy link to this section
By the end of the webinar, you will:
Learn how to use the Conversion API Gateway effectively.

Observe right from our experts how to boost your Meta advertising.

Get all of your questions answered and concerns resolved.
Don't miss the chance to make the most of the Meta platform! Space is limited, so be sure to secure your spot by registering today using this registration link.
P.S. Can't make it on the scheduled date? No worries! Register anyway, and we'll send you a recording of the webinar so you can catch up at your convenience.
Webinar QandA
Copy link to this section
1. If we implement the API Gateway we won't need Facebook on web/server-side with GTM?
CAPI Gateway sends Meta Pixel events through a server connection. When you use CAPI Gateway, you must have the correct Meta Pixel tracking setup. However, there is no need to use server GTM since server events are handled through the CAPIG.
2. We are using this with GTM, and integrating GTM was complex.
Implementing Meta Conversions API through the server Google Tag Manager is time-consuming and requires technical skills. CAPI Gateway can be implemented in under 3 minutes, and no technical skills are required. Please see this guide.
3. HIPAA and FDIC compliance.
Unfortunately, for now, stape does not have HIPPA and FDIC compliance.
4. If I have the Meta Shopify app installed in Shopify and I also deploy Stape will that lead to duplicates?
With CAPI Gateway, deduplication is configured automatically. There will be no duplicates.
5. With this new paid option for agencies, do we have the option to select which data to exclude from the payload to Meta?
You can control which events are sent to Meta inside the Conversion API Gateway hub interface.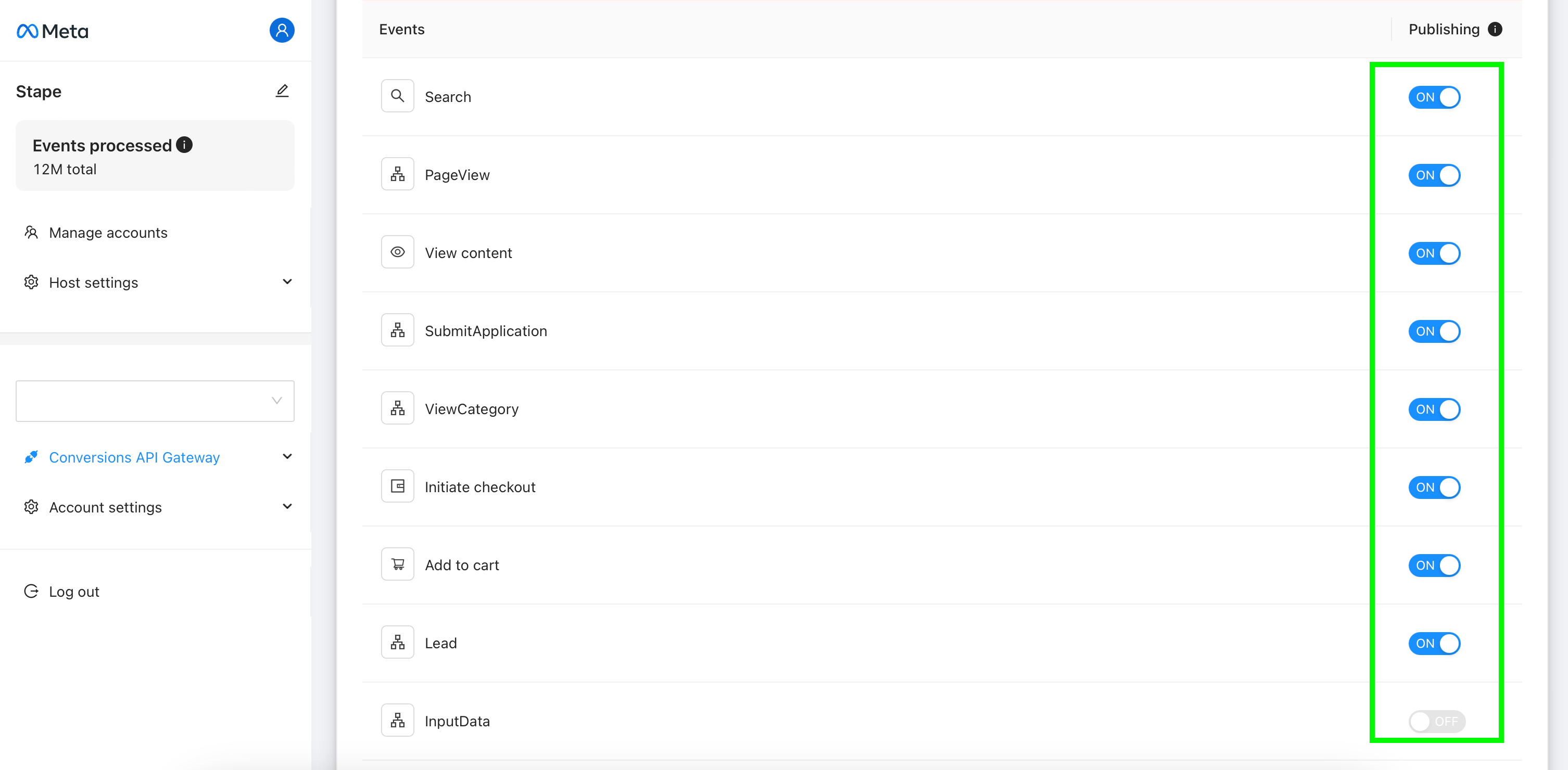 When connecting Meta Pixel to Meta CAPIG hub, you can control which user data you want to share with Meta by clicking Show customer information parameters.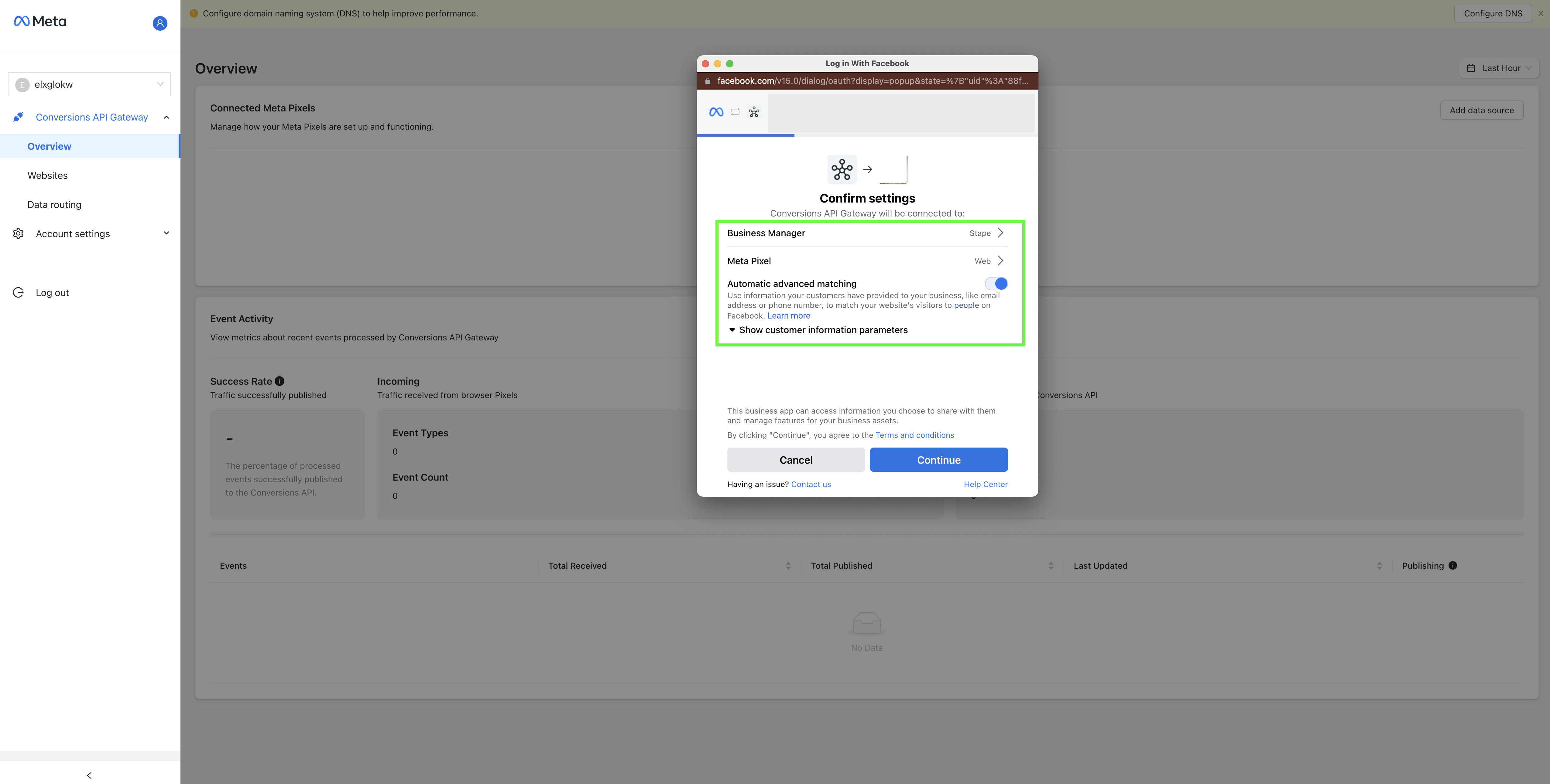 6. What about the DNS Setup?
7. How can Stape send custom event data to Meta?
If Meta Pixel tracks custom events, then CAPI Gateway will catch them automatically and send them through the server connection.
8. Is this possible only for FB or for other platforms too?
9. How do I add a second pixel?
10. Will it work if I use multiple pixels on my site?
Having multiple Meta Pixels on the website is not a best practice. But you can definitely connect all pixels you have on the website to the CAPIG hub. Check this guide on how to connect additional pixels.
11. With this solution Stape handles this on the backend with a server in first-party context?
12. When pixels that are shared to our Business Manager account (created by partners) will they show up as pixels we can connect via Stape?
Yes, it will, if you have admin access to the Pixel.
13. Also, I realize you cannot offer legal advice but if you could speak to the issue of consent management with respect to server side tracking that would be great. Don't need advice but need to know the sorts of questions (like which CMP provider will best meet our needs in relation to the server side and not just client side) we should asking to ensure compliance with privacy laws. Might merit a separate webinar. Would love to see you guys on a joint webinar with the folks at cookiebot.
Thank you for the suggestion about the webinar with Cookiebot. We will reach out to cookiebot team and offer to have a webinar.
14. Is Stape able to handle any updates that happen on the CAPI side to avoid having developers troubleshoot connections?
Stape handles all the CAPI Gateway updates, there is no need to run any updates.
15. Is there available a trial period to try this?
16. How do you improve event match quality to Good/Great?
There are two ways on how to improve event match quality for CAPI Gateway:
Enable Advanced matching inside the CAPIG hub interface.

Activate Automatic Advanced Matching when linking your pixel to the CAPIG hub. To specify the user parameters you wish to share with Meta, select "Show customer information parameters" and enable the ones you'd like to share.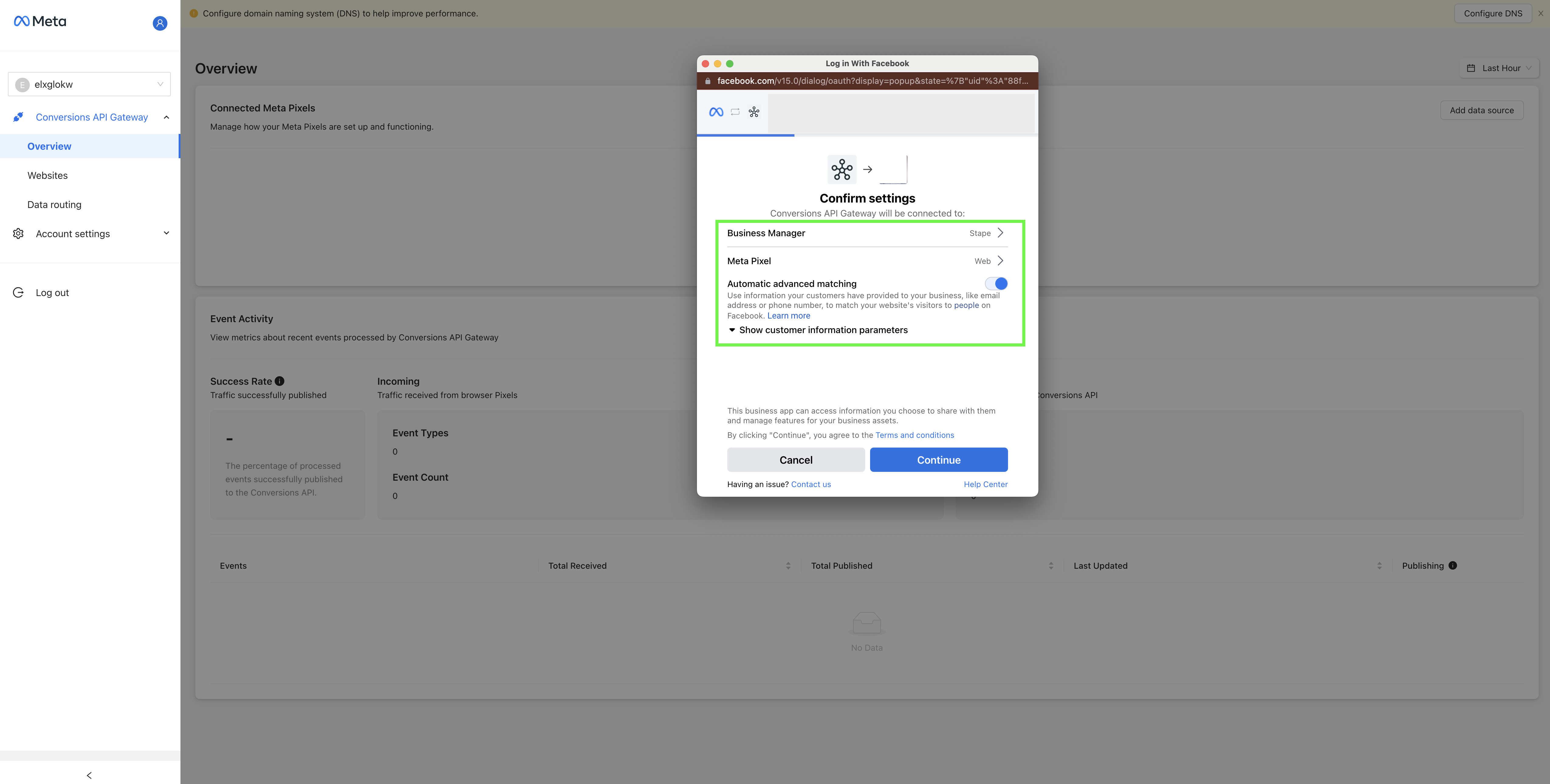 17. Do you have dedicated Stape representatives to work with agencies and their clients/accounts?
Unfortunately, we don't have dedicated representatives for agencies. Feel free to send your questions to the stape support team.
18. What about if we already have another plugin for tracking or a code in the html of the website, should we remove them?
CAPI Gateway takes event data from Meta pixel and sends events through a server connection. So there is no need to remove Meta pixel integration. However, if you have any integration that send Meta Conversions API, then it's better to remove it.
19. If I have my Pixel connected to 5 websites, Website A, B, C, D, and E.... and I connect this Pixel to Stape.
The setup will work correctly. You will see all 5 websites sending data to the CAPI Gateway hub, similar to what you see in the screenshot below.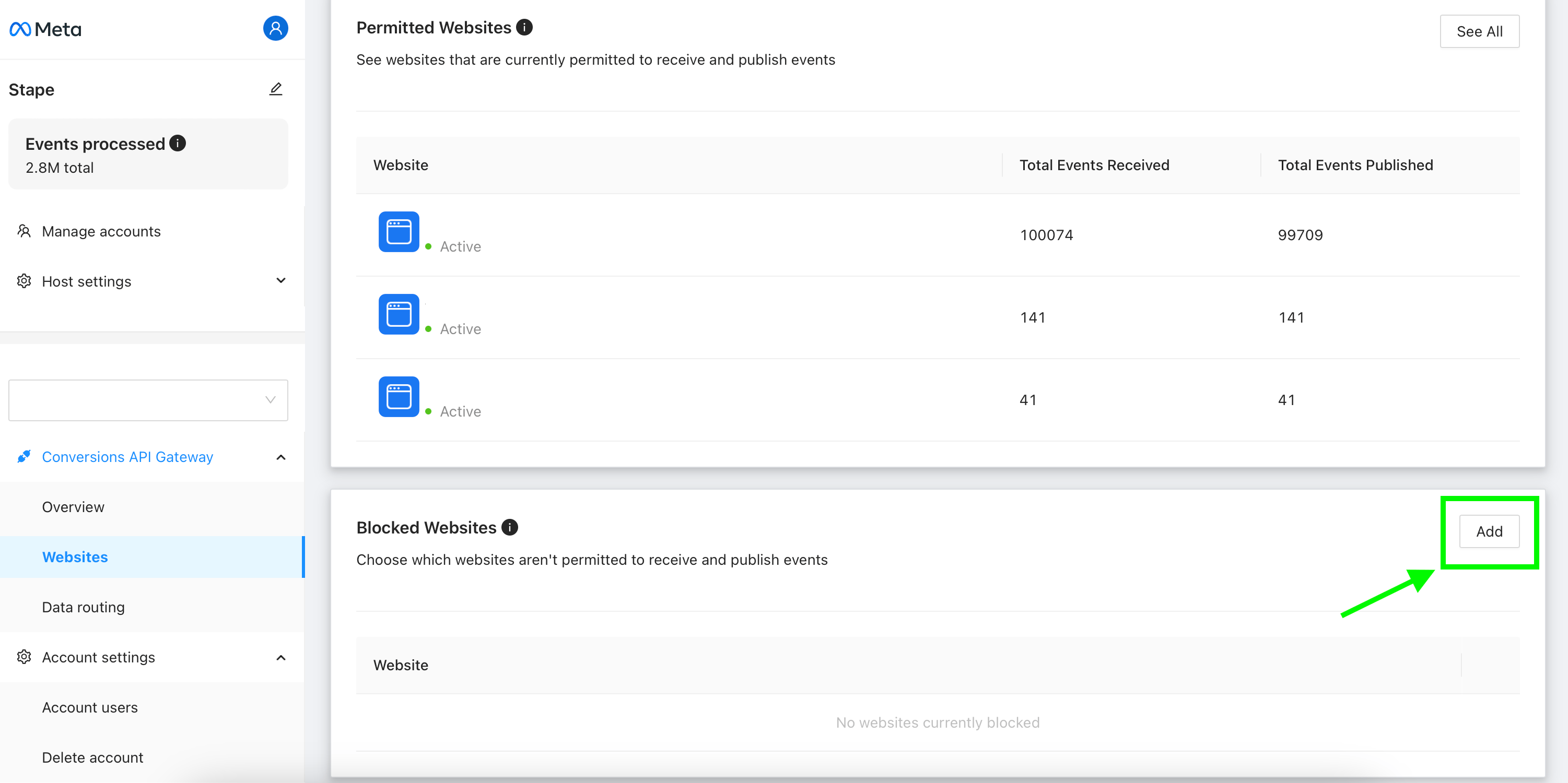 20. Is it a good idea to set up some events only through the CAPIG and release page load from the Facebook pixel directly to Facebook? What would be the consequence of sending events just to server?
In some cases, it might be a good idea to send events only from the server, but CAPI Gateway won't work in this case, because CAPIG must rely on Meta Pixel data. We have a blog post on how to implement pure server-to-server tracking for Facebook.
21. Do you have any yearly plan?
Yes, we do have yearly plans.
$100 per year per pixel

$1000 per year for the unlimited number of pixels.
22. Can stape set CAPIG all up for me?
Unfortunately, we do not offer such services.
23. What's the easiest way to implement Facebook Login for Woocommerce?
If you are already tracking Facebook login on Woocomerece through FB pixel, then CAPIG would be the easiest solution.