In a ground-breaking action, Sweden's Data Protection Authority, known as Integritetsskyddsmyndigheten (IMY), instituted fines against an unprecedented four companies for violating GDPR laws via illicit data transfers from the EU to the US. Two of the firms received high penalties up to €1 million and the other two were handed stern warnings and given an ultimatum to discontinue their use of the contentious tracking tool.
These fines signal a notable shift in the landscape of data protection enforcement. Up until now, several data protection authorities in countries like Austria, France, Italy, and Denmark had ruled that the use of Google Analytics contravenes GDPR. However, this is the first instance where concrete monetary penalties have been imposed, underscoring the gravity of the infraction.
The stringent enforcement by the Swedish Data Protection Authority represents a significant milestone in the journey towards robust data protection. It unequivocally communicates to firms within the EU's jurisdiction that any disregard for data protection laws is unacceptable and will be met with substantial penalties.
Stape offers a solution
Copy link to this section
You can use Stape Europe to set up an EU proxy server for server GTM that will help make the use of Google Analytics GDPR compliant.
This proxy-server aims to break the interaction of US intelligence tracking tools with user browsers. One of the ways, and maybe the easiest, to implement such a proxy-server is using server Google Tag Manager.
Proxy servers have to meet a set of criteria. The two most important are:
A company that owns a proxy-server must be registered in the EU

The proxy server must be physically located in the EU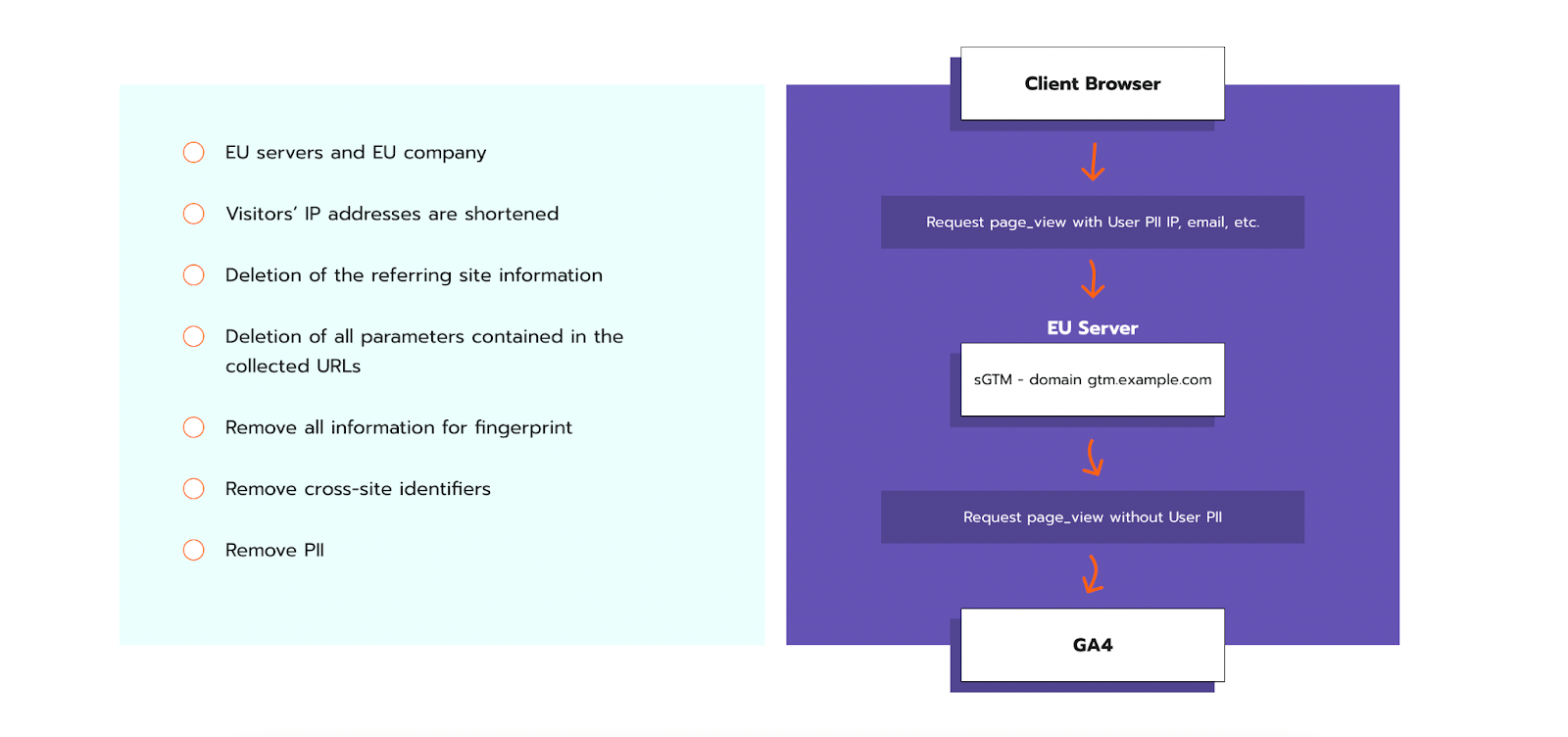 Stape Europe is a European company (registered in Estonia) that uses a 100% EU cloud servers provider Scaleway to host server GTM containers.
We cover all questions related to the EU-owned proxy server. When setting up an sGTM container using Stape Europe, you do not transfer any data to the US company since Stape Europe itself is an EU-registered company, and we use servers that are physically located in Europe.
Need help with the setup?
We've got you covered! Click Get help, fill-up the form, and we will send you a quote.
Get help